Charles Cooper's recent
post
, and the discussion that followed, is a tough act to follow. But I love charts and graphs, so here goes:
"Since only those with significant savings can possibly afford to pay a $200,000 tuition tax, the average-income household is left with one choice: the debt-serfdom of student loans. This is the acme of a morally bankrupt system of higher education: you need a college degree to have any hope of succeeding in America, but the only way to get that degree is to enter debt servitude, with no guarantees of future income needed to pay off the debt."
The quote above is what Boomer ScamDeans and LawProfs conveniently ignore when bloviating about the long-term value of a law degree.

However, the market is paying attention, as recent

LSAC data

indicates.
Oh, did I mention that the quote above was talking about undergraduate debt?

Funny how the sticker price for law school tuition looks exactly the same, nowadays.
However, as these charts indicate, the truth hits home - higher education has become a tax on the lower and middle classes, make no mistake.

Somewhere around the mid-1980s, total household debt became decoupled from wages and salaries.

If you happen to be from recent prior generations, you were blessed to see some semblance of the two staying in some form of lock-step for a good portion of one's life and career.

But no longer.

Not all of this can be blamed upon people maxing out their credit cards, or buying worthless degrees, or buying more home than one could afford, although some of that certainly did happen.

This has to do with the typical American consumer being slowly priced out of the market for decades.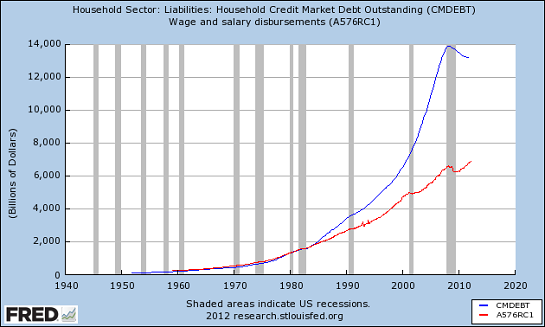 The next chart needs little explanation.

College tuition and fees inflated at a rate ten times that of a new car, and twice that of medical care, over the same period.

We all know, of course, how rational the cost of medical care has been (that was sarcasm, ScamDeans).

According to

Campos

, law school tuition increased 160% for private law schools, and 400% at public law schools, over the same time, adjusted for inflation.

Telling younger people today that they just need to "buck up" and "work hard," or be "

brave

", misses a core fundamental truth, and is the height of dishonesty to boot.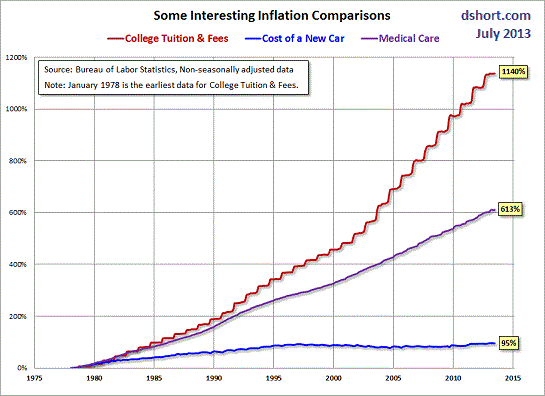 And let's not forget that wages have stagnated for the majority, another decoupling that also took place in the early 80s.

It is significantly more difficult to pay (1) heightened loans with (2) less real money.

Especially when "clients" are dealing with similar money struggles of their own. But those who live in the bubble will choose not to understand this.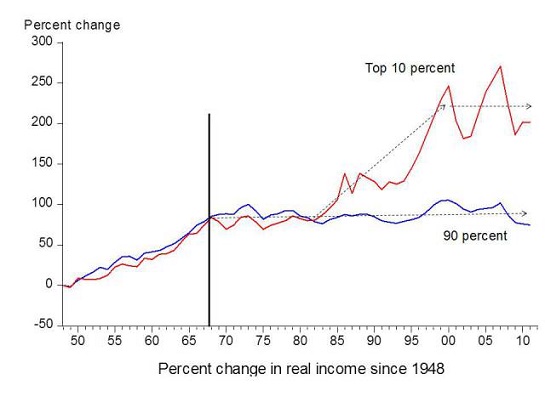 Friends, we can argue all day about who isn't working hard enough and who is, and who had to walk uphill both ways in the snow every day to school and who didn't, and who wants things handed to them on a silver platter and who doesn't, and many, many other meaningless comparisons that do little more than to justify oneself at the expense of others who are, conveniently, strawmaned as "inferior."
Let's instead talk about something that we can all agree upon: the landscape has changed.

In real, quantifiable terms.

And this post does not even get into the specifics of JD overproduction, law firm consolidation, outsourcing of legal work and the like, which only serve to make a bleak picture even more challenging.
Higher education is one of the major players at the heart of the matter, and the quest for sweet, sweet Federal student loan dollars has created a credential-arms-race that has spiraled out of control.

Avoid law school in particular, as the current costs are just not worth the benefits, with the only exceptions being that you have (1) the connections to drum up sufficient mentoring and clientele, and (2) the resources to avoid debt-serfdom. Listen to the many, many voices, both posters and commenters alike, who will attest to this.
In other words, be

Simkovic & McIntyre

.

One of whom, I note, didn't even go to law school in the first instance. And nothing says "value" like going after the

pre-law students

so as to convince them that law school is a grand idea. One would think the JD would speak for itself and not require so much cheerleading.
But it was never about that. Get 'em while they're young, and Always Be Closing.